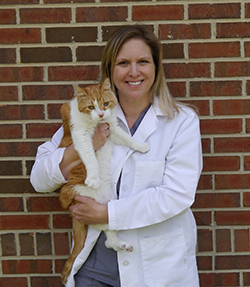 Dr. Dunlap grew up in a small town in Ohio and after graduation from Ohio Wesleyan University, attended The Ohio State College of Veterinary Medicine and graduated in 2007. Dr. Dunlap completed an intensive small animal internship at North Carolina State College of Veterinary Medicine in 2008 where she completed rotations through specialty services and cared for emergency and ICU patients.
Following the internship, she worked in several large practices in the Washington D.C. area, but ultimately wanted to bring her family back to the mid-west. They settled in Michigan in 2014 and she began working at Cherry Hill. She purchased Cherry Hill Animal Clinic in 2017.
Dr. Dunlap lives with her husband, Zach, their three young sons, and their rescue dog, Chloe, and two cats, Rufus and Lucia. They enjoy playing outdoors, hiking, and traveling.
Like many veterinarians, Dr. Dunlap decided on her profession at a young age because of her love and compassion for animals and her passion for science. Since becoming a veterinarian, she has found satisfaction not only from caring for pets, but also from developing relationships with their owners and helping to cultivate a strong bond between pets and their parents.